Here you can create all presets for your badges. After you are done creating presets go to the Badge Manager to assign them to appropriate badges.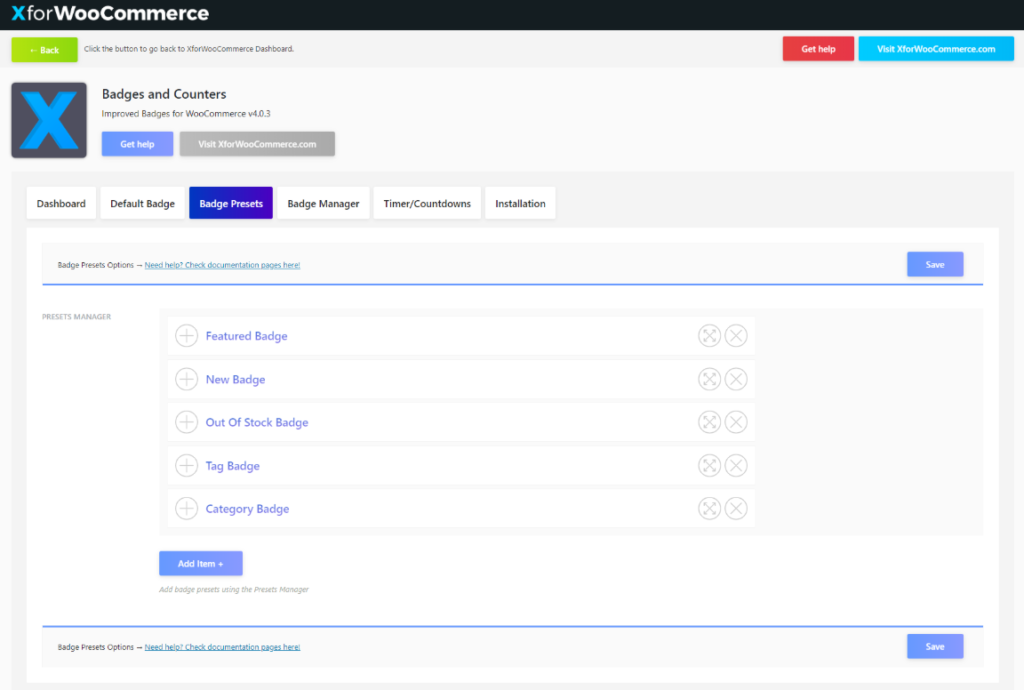 ---
Preset manager
Add badge presets using the Presets Manager. Click the add item button for the Preset Manager to appear.
When clicking the add item button to create badge presets you will get these options:

Preview
Current badge preview. Useful for when you test the badge styles.
---

Preset name
Enter s preset name to be more recognizable.
---

Style
Select sale badge style. The available options are:
Arrow down CSS
Arrow down alternative CSS
Aliexpress style CSS
Aliexpress alternative style CSS
Inline CSS
Plain CSS
Pop SVG
Pop round SVG
Fresh SVG
Round triangle SVG
Tag SVG
Bonus – Christmas 1 SVG
Bonus – Christmas 2 SVG
Ribbon full SVG
Vintage IMG
Pure CSS
Modern CSS
Transparent CSS
Transparent 2# CSS
Random Squares SVG
Fresh #2 SVG
Valentine SVG
Cool SVG
Triangle SVG
EU Elegant CSS
EU Round CSS
EU On side CSS
Candy SVG
Candy arrow SVG
Cloud SVG
ShopKit SVG
Responsive – Square
Responsive – Star
Responsive – Badge
Responsive – Upside badge
Responsive – Pop
Responsive – Round Square
Responsive – Buzz
Responsive – Circle
Responsive – Shake
Responsive – Shake line
Border – Square
Border – Star
Border – Badge
Border – Upside badge
Border – Pop
Border – Round square
Border – Buzz
Border – Circle
Border – Shake
---

Color
Select sale badge color. The available options are:
Avada green
Green
Orange
Pink
Pale red
Golden yellow
Turquoise
Brown
Plumb
Marine
Dark orange
Fuschia
Sky
Ocean
Regular gray
Summer palette #1
Summer palette #2
Summer palette #3
Summer palette #4
Summer palette #5
Summer palette #6
Summer palette #7
Summer palette #8
Summer palette #9
ShopKit material
ShopKit flat
ShopKit creative
---

Position
Select sale badge position. The available options are:
---

Special
Select special badge. The available options are:
Border CSS
Border round CSS
Plain CSS
Arrow CSS
Big badge CSS
Ribbon SVG
Overline on white CSS
Underline on white CSS
---

Special text
Enter special badge text