Filter Presets
Filters are the core of this plugin, right? This tab is all about them. First section is where you maintain your filtering presets.

When you check the plugin for the first time you will have the Default preset. We strongly advise to use the Default preset as your default preset, and start building from there. What this means? This preset should be your main preset on the Shop page, if you need more presets build on top.
The main options here are Duplicate, New and Delete.
To create a new filtering preset click New and then enter a name.
To duplicate a filtering preset click Duplicate and then enter a new name.
Default preset cannot be deleted, but any other can.
---
Filter Options
These are groups of options for the Filtering Presets. All the options that go into the Filter Presets like Filters, General, Style, Adoptive and Responsive are unique to every preset. So, you can set Adoptive filtering in one preset, but not in another. Be careful with this, as more presets will complicate things. Make sure you note that.

These options are further explained in individual help articles that follow:
---
Filters
Filters lets you setup all those important filters! This is the core of the plugin and where a lot happens.
To start use the Default filter until you get comfortable, then you can easily grow to more filter presets.
---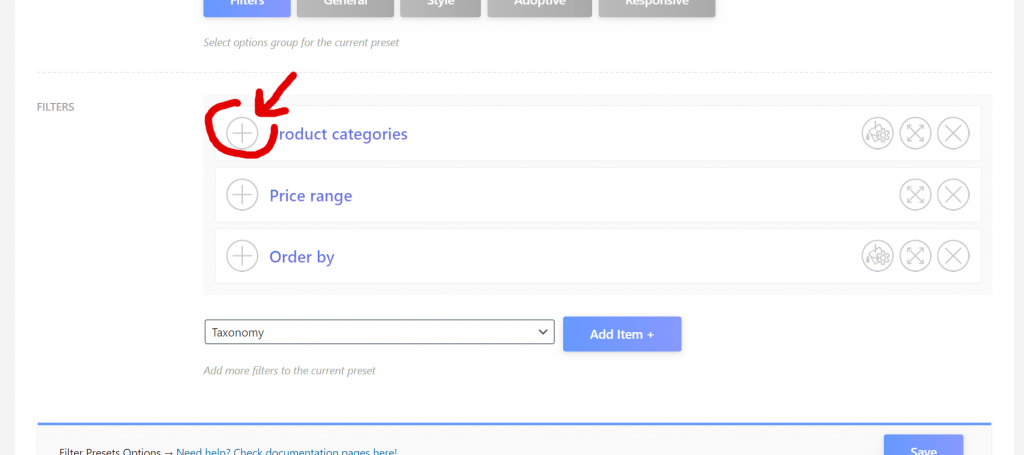 Click the + (Plus) icon to open the filter options
Every filter is like a closed up accordion. You click the + (Plus) icon to open its settings. Inside you will find lots of things!
---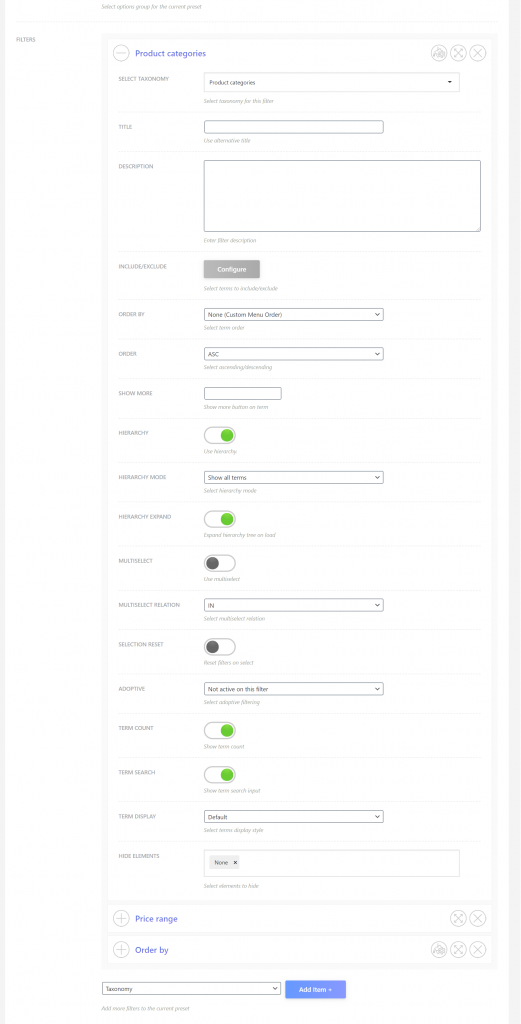 When clicked options slide out
Many options are available for the Category filter. This Product Category filter is also named a Taxonomy filter. The options for taxonomy filters are shared. Attributes and tags are taxonomies too.
Supported filters are:
Taxonomy – These include Category filters, Tags, Attributes and any Custom Taxonomy assigned to Products like Brands or similar
Taxonomy Range – Same as taxonomies, but the selection is with range filters
Meta – Meta key filters, this also supports any plugin that makes those
Meta Range – Same as meta, but yet again these are the range filters. Meta Ranges with numerical data are something interested and should be exploited as much as possible
Vendor – Or post_author
Order By
Search
Availability – In Stock/Out of stock
Price – Prices as swatches or terms
Price Range – Prices as range filter
Per Page
---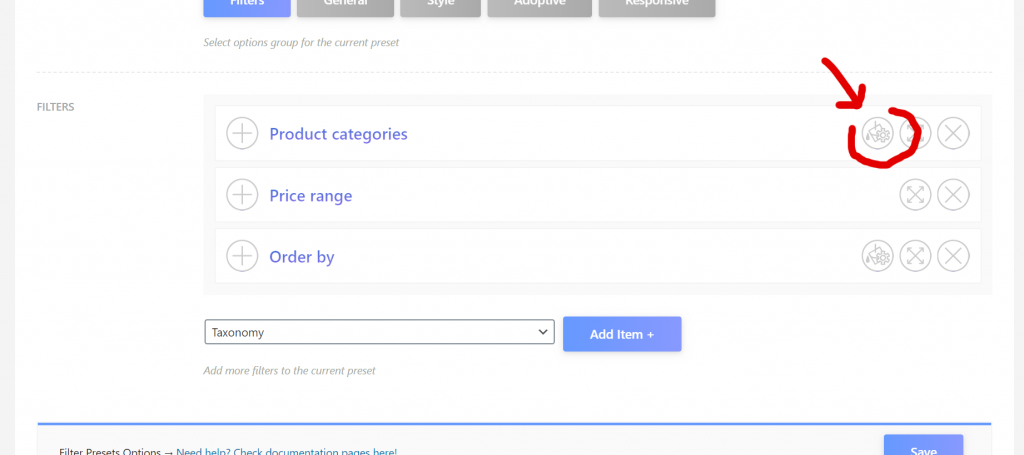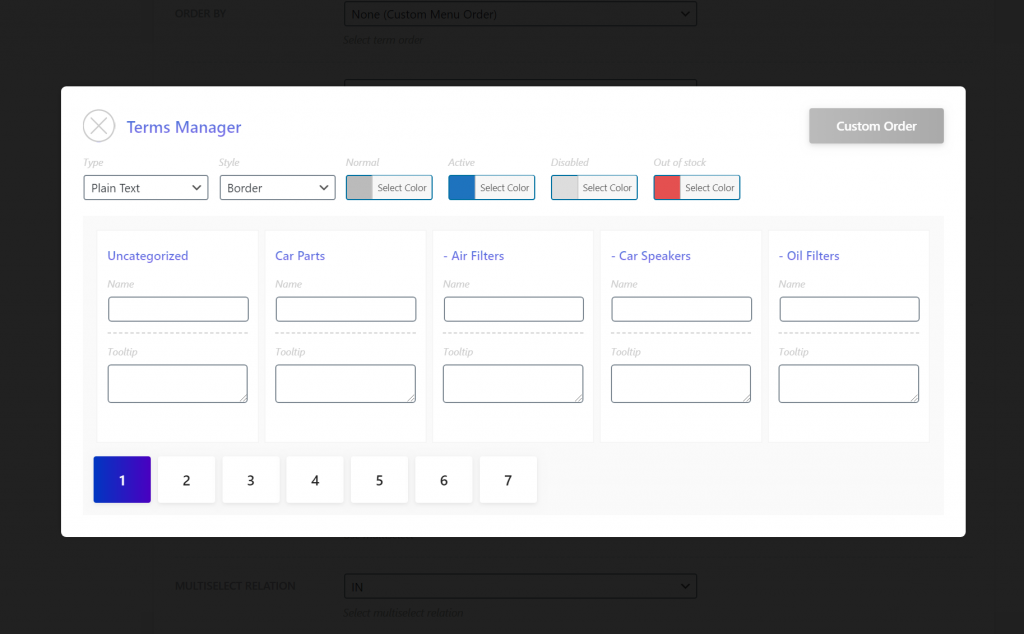 More filter options are on the right side too
Here besides moving and removing the filters, you can also enter the Terms Manager mode. If you click the Cogs/Paint Bucket button (First from left in the right icon group) a Terms Manager will appear. Here you can set the look of the filters. That's if need them as a select box, or swatches or else.
Currently supported term displays are:
Plain Text (Small block shaped swatches)
Color – Basic color swatches, round and square are supported
Thumbnail – This will let you add thumbnails as swatches
Select Box – HTML Select box version
System Select – Native system select box (Form element select)
Live Select – Live select with type in search
HTML – Custom HTML